Marble Polishing Powder
Clean. Repair. Polish. Homeowner Friendly TOO!
Kit Includes: Marble Polishing Powder, Marble Cleaner, and Marble Polish.
Dull spots, acid rings or etches
on your Natural Stone? This kit is all you need! Use it for spot polishing your marble, travertine and limestone.
Marble Repair Kit
Stone Care Kit Description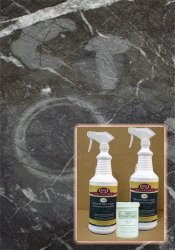 An Easy to Use polishing powder thet removes water stains, acid rings, and slight to medium etching from your calcite based stone. (Marble, limestone, travertine.) It will even remove most water spots and ghost rings from your polished dark Granite!
Clean, repair and preserve
the beauty of your Natural Stone with this safe, friendly and effective marble repair kit.
This kit is not for floors. The polishing powder can be used on floors. The cleaner & stone polish are for counters, walls, fireplaces, etc.
Buy the Marble Repair Kit
Product Description
Other
Household Uses
Routine Cleaning

It will quickly and easily clean your Marble, Granite and other Natural Stone.

Just spray it on, let it sit for a few minutes, and then wipe it dry.

It works wonderful on walls, bathroom vanities, stainless steel and more! AND, it's safe and effective to use on Granite, Marble, Limestone, Travertine, and any other Natural Stone.

NO Rinsing. NO Dull Film.

Bathrooms, Vanities, Fireplaces
Chrome Fixtures
Corian®, Silestone®, Caesarstone® And Formica®
Gilded Fixtures
Lacquered Furniture
Mirrors And Glass
Shower Walls
Stainless Steel
Tiles

Marble Polishing Powder

A professional grade product, yet user friendly.

It enables you to polish Marble like the Pros! It will restore the majority of water stains and acid rings/chemical etches, without the expensive services of a stone restoration professional.

While not universal, it works wonderful on most Marbles, Travertine, Alabaster (Marble Onyx), Onyx, and polished Limestone. Not by coating it, but by abrasion and friction as it was originally done in the factory!

Can be used on polished floors.

Calcite Based Stones
Kitchen Countertops
Polished Dark Granites
Tables
Vanities
Terracotta

Stone Polish for Beautifying

Add shine and create a protective shield that repels water, reduces finger marks, and makes your routine cleaning easier.

This stone polish restores slightly worn down surfaces to like new condition too!

Any Polished Stone
Backsplashes
Kitchen Countertops
Fireplace Surrounds
Vanities And Showers
The marble repair kit
is the very best product line available to the end user of Stone for professionally repairing light to medium etch marks on calcite based stone. It's also the easiest one to use!
Buy the Marble Repair Kit