Stone, Marble & Granite Cleaner
Safe, Effective And Easy To Use!
Looking for a safe and effective Granite cleaner? This is a stone friendly daily SPRAY cleaner
. It's great for Granite, Marble, Onyx, Travertine, Limestone and MORE!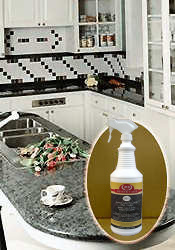 This is one of the most popular products. It's a light duty daily cleaner that cleans quickly and easily.
This daily spray cleaner safely removes fingerprints, food residue, and grease. It's not only versatile but effective and easy to use
. It's safe to use on ALL Natural Stones and surfaces. Even your most delicate!
It's a must for the daily cleaning of stones that have been sealed with a penetrating sealer. Comes in a QUART
as well as a GALLON
!
Great for cleaning Granite Counter Tops as well as your Marble Vanities, Delicate Onyx, Travertine Fireplaces, and Limestone Accents!
Buy the Stone, Marble & Granite Cleaner
Mirrors
Glass
Ceramic and Porcelain Tiles
Solid Surfaces such as Corian®
Engineered Stones such as Silestone® and Caesarstone®
Formica
Chrome Fixtures
Stainless Steel (polished and satin finish)
Lacquered Furniture
Gilded Fixtures
Shower Walls
Bathroom Vanities
Fireplaces
Spray a light mist over the area to be cleaned.


Allow it to sit for approximately 30 seconds.


Scrub with a sponge or a light duty pad.


Buff the surface dry with a clean soft cloth
The daily spray stone cleaner
is the very best product line available to the end user of Stone for the cleaning and care of stone counters, vanities, shower walls AND all other natural stone. Gentle enough for your MOST delicate natural stone - no soapy film left behind!
Remember, you can order this daily spray cleaner in quart
or gallon
sizes!
Buy the Stone, Marble & Granite Cleaner