Stone, Marble & Granite Polish
Your Granite Will Love This!
It's not just a GRANITE polish - it also works great on Marble, Travertine, Onyx and ALL other polished stones. This non wax protective coating is stone friendly
and never needs to be stripped!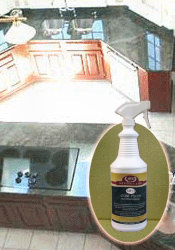 Penetrate, Protect, and Beautify
your natural stone!
It adds shine and creates a protective shield that repels water, reduces finger prints and marks, AND makes routine cleaning so much easier.
It also restores slightly worn down surfaces to like new condition!
This is a terrific product for polished countertops, back splashes, vanities, AND EVEN your shower walls! It's NOT for floors. Use a polish for stone floors.
Buy the Stone Polish
Any Polished Stones
Architectural elements, shelves, ledges, & nick-knacks.
Back Splashes
Fireplace Surrounds
Kitchen Counter Tops
Polish Granite Tables
Vanities & Showers
Clean your stone and allow the surface to dry.
Spray the polish sparingly but thoroughly on your surface to be polished.
Buff the surface using a clean white soft cloth.
The FIRST time you use a marble & granite polish,
we recommend a second application in a day or two.
The stone polish
is the very best product line available to the end user of Stone for polishing, adding shine and restoring worn down & weather beaten stones to like new condition. Not for floors.
Buy the Stone Polish