Marble Repair And Polish
A Little Bit Goes A Long Way!
Marble repair and polishing is easy with a marble polishing powder. Do you have water stains or dull spots (etches) stone? You can polish Marble like the pro's
without the expensive services of a stone restoration professional!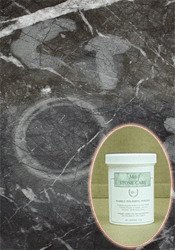 This marble repair and polishing powder is user friendly, easy to use, and requires NO power tools.
It will restore the majority of water stains and acid rings from polished Marble, Travertine, Limestone, Onyx, and any other calcite based stone.
This homeowner friendly
marble repair product is designed as a spot polisher to remove light to medium etchings and rings from your stone. A little bit goes a long way! AND, there's no expiration date. For extra caution, test in an inconspicuous area prior to use.
Buy the Marble Repair Polish
Calcite Based Stones
Kitchen Countertops
Polished Stone Floors
Tables
Tiles
Vanities
Polished Dark Granite (Removes most water spots and ghost rings.)
Apply a couple of pinches of powder over the dull spot or water stain and spread it evenly over approximately 2 square inches.
Moisten the area using a spray bottle.
Use a soft cloth and rub the powder into the surface using the heel of your hand (just a mild pressure) until the surface is dry and shiny. (It shouldn't take more than a few strokes).
Repeat if needed.
To finish with a Professional Touch...
Spray a little bit more water on your "spot" and rub in the remaining powder. Use a very slight pressure and work in a circular motion starting small and widening (blending the edges) until the surface is shiny and dry. Spray on a little cleaner for your final cleaning. Finally, polish with a quality stone polish.
The marble polishing powder
is the very best product line available to the end user of Stone for repairing mild to medium etches - surface damage - on calcite based stone. It's included in the marble repair kit.
Buy the Marble Repair Polish