Stone Wipes
Product Description
Stone wipes are the most convenient and the quickest way to clean ALL of your Natural Stone AND to keep it looking brand new.
EASY to use TOO! Just swipe and wipe.
Pre moistened with a powerful ammonia free formula, this cleaner easily and safely removes fingerprints, food residue, and grease from all Natural Stone surfaces. It also removes dust, dirt, oil & smoke and leaves behind a dazzling shine!
NO Streaking or Sticky Film!
Works GREAT on horizontal and vertical surfaces. Water spots on your shower tiles? Grab a handy wipe and swipe!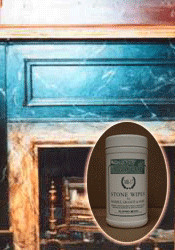 Dusty marble fireplace mantle? A quick swipe grabs ALL of that dust.
Whether it's toast crumbs or a large glob of butter, these wet wipes are efficient. PLUS they're SAFE for stone!
OTHER HOUSEHOLD USES
Bathroom Vanities
Ceramic AND Porcelain Tiles
Chrome Fixtures
Engineered Stones such as Silestone® and Caesarstone®
Fireplaces
Formica
Gilded Fixtures
Glass
Lacquered Furniture
Mirrors
Shower Walls
Solid Surfaces such as Corian®
Stainless Steel (polished and satin finish)
Accidents Are Bound To Happen!
Be prepared with your canister of wipes. It's quick. It's convenient. It's the daily spray cleaner in handy wipe form! NO sticky & NO streaky.
Cleaning Just Got Easier!!