Impregnating Sealer For Stone
Simple, Safe, Friendly & Effective!
An impregnating sealer is simple to apply, user friendly, and safe for food contact! It's the ideal product for interior and exterior use.
Some impregnators are water based and others are solvent based. What's the difference between water based and solvent based sealers?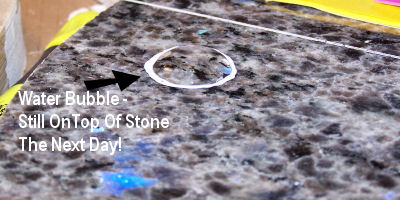 Sealers have a special blend of polymers and resins that bond to the stone and create a water and oil repellant membrane to prevent staining, yet allow your stone to breath and to release moisture vapors.
Some sealers are applied every 3 to 5 years and others last for ten years or more. This will depend on the type of resin used. The type and percentage of resin used is the most important factor because this resin is left behind to do the work.
Buy a quality sealer and the first application will protect your valuable stone for many years.
Not only does a sealer provide excellent stain protection, a stone sealer also prevents the growth of bacteria and mold and mildew on interior and exterior stones AND helps prevent the adhesion and penetration of fluids and dirt.
They sit below the surface of your stone and deposit solid particles into the pores of your stone to coat the individual minerals below. A sealer reduces the natural absorbency of a stone or material.
Impregnator sealers are GREAT for sealing granite countertops, travertine showers & vanities, limestone floors and even concrete!
Other Household Uses:
Concrete
Grout
Honed Finishes
Other Stone Finishes
Polished Finishes
Porous Man Made Materials
Stone Tiles
Terracotta
If you need a long lasting product for sealing your Granite Countertops, Vanities, Showers, Floors, Tiles, etc., look no further!!! Here's more info on the 10 year sealer.