Granite Countertop Polish
Product Description
Say 'Hello' to the BEST granite countertop polish available. It works on travertine, limestone, granite, marble AND Onyx too... ANY polished stone! This product restores luster and enhances shine.
Easy to use too! Just spray & buff.
Use it anywhere a little more shine is needed!
It's a terrific product for polished countertops! AND, it's versatile. Spritz it on your back splashes, vanities, fireplaces, tables AND EVEN your shower walls!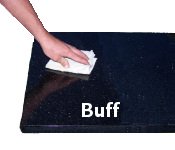 Weather beaten & worn down stone? No problem!
Beat up & dull looking countertops? It will RESTORE slightly worn down surfaces to like new condition.
It coats the stones surface with a smooth and shiny shield which helps control marks and other minor smudges.
This polish creates a protective shield that repels water, reduces fingerprints, and makes your routine cleaning so much easier!
This is amazing considering it's a non wax product!!!
Not sure how to polish granite countertops? This one's EASY to use!
Just spray & buff - NO stripping necessary.
---
OTHER HOUSEHOLD USES
ANY Polished Stones
Back Splashes
Fireplace Surrounds
Kitchen Counter Tops
Polished Granite Tables
Stainless Steel Appliances
Vanities & Showers
---
Smooths And Beautifies All Polished Stone!
Bring out the deep rich colors of your stone! Enhance, protect and beautify with just a couple of squirts. Use this stone, marble and granite polish for all of your natural stone care polishing needs. Your Granite Will Love This!