Color Enhancer for Stone
Make Your Stone Come Alive!
A color enhancer for stone is usually a solvent based product. What does it do? It penetrates the pores of your stone and makes it look wet.
It's the ideal product for BOTH interior and exterior use. The look achieved with this product is deep, dark & wet.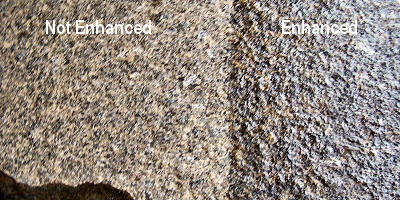 If your stone is rough or dull looking and you want to bring the colors out, a color enhancer will work great for you.
How Do You Know?
Get a portion of your stone wet with plain old water. Do you like the look? This would be the permanent color after applying it.
Color enhancers usually do double duty as sealers too! Some are better at repelling water and others are better at repelling oil.
A stone enhancer will also help minimize surface stains or marks on your honed granite... finger prints, marks, perspiration, and rings. It's easy - it's effective - it adds a new dimension. Two applications will do for most stones!
Other Household Uses:
Flamed Granite
Honed Granite
Honed Marble
Sandstone
Slate
Some Polished Dark Granites
Unpolished Limestone
Unfinished Travertine
Do you have etch marks - dull marks - on your stone?
A color enhancer will make etch marks
PERMANENTLY
disappear
IF
the etch marks temporarily disappear when wet!
NOTE: A color enhancer should not be used on stone that has been sealed. Apply the color enhancer BEFORE using a sealer. If your stone is already sealed, all traces of the sealer must be removed first!
Still have questions on color enhancers? Here's a little more info on color enhancers as well as where to buy it.