Stone Color Enhancer
Achieve That Wet Look!
Are you looking for a safe and effective color enhancer for your stone? A way to make the colors pop? This stone enhancer will give your stone that deep, vibrant wet look! The colors will POP!
It's a great water repellent sealer too! Two applications will do for most stones.
If you have honed Granite (especially black), tumbled Marble or unfinished Travertine in your home, this is the ideal product!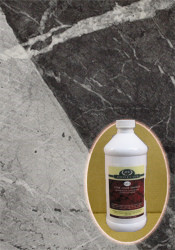 Permanently enhance the natural color of honed travertine or granite, tumbled marble, limestone, slate, and any other unpolished stone surface.
Achieve that wet look
on your natural unpolished stone surface.
This enhancer will also enhance the color of some polished stones.
Just get your stone wet with plain water to see what the color enhancer will do for you. If your stone becomes darker when wet, it will work for you! 16 Ounces Covers About 120 Square feet.
Buy the Stone Color Enhancer
Antiqued Stones
BLACK Granite
Flamed Stones
Hides Some Scratches & Etches
Honed Marble
Honed Granite
Matching Countertop Edge To Top
Sandstone
Slate
Some Polished Stones
Tile Edges
Tumbled Stone
Unpolished Limestone
Unfinished Travertine
Ensure your surface is clean and free of any debris or residue.
Apply liberally with a brush or a clean white rag.
Let the product sit on your stone's surface for a maximum of 15 minutes - you do not want it to dry on the surface.
Remove any excess enhancer from the surface of your stone thoroughly, using a bit of mineral spirits.
We recommend two applications.
This enhancer is applied BEFORE any sealer. If your stone needs to be sealed, we suggest waiting at least 24 hours before applying a quality sealer.
The color enhancer
is the very best product line available to the end user of Stone for achieving that 'wet look' on natural stones. It deepens, darkens and highlights the natural color of all rough finished stones and EVEN some polished stones - Permanently!
Buy the Stone Color Enhancer