NOT AVAILABLE AT THIS TIME
"Everything You Need To Know About Tombstone Cleaning."
Doesn't matter if it's a bronze, metal, marble, limestone OR granite tombstone!
We'll teach you how to clean it the RIGHT way!
Inside You Will Discover...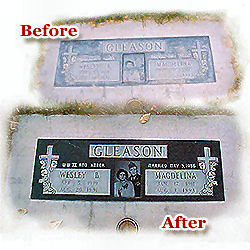 Quick & simple headstone cleaning techniques to make your loved ones headstone shine.
Insider secrets to properly clean AND maintain METAL or STONE headstones for a fraction of the cost charged by professionals. These costs can reach anywhere from $60-$200 per headstone.
Little known methods for stain removal.
The different cleaning methods for slate, shale, sandstone, brownstone, limestone, marble and granite headstones.
A few small tricks so you can easily tell the difference between natural stones.
The confidence needed to clean & remove stains from bronze, marble, limestone, AND granite tombstones.
Headstone repair techniques. Knowing this one alone will save you tons of cash!
Plus... GET insider tips on starting YOUR own headstone cleaning business. Learn the tricks of the trade!
I GUARANTEE that the Headstone Cleaning Guide will teach you everything you need to know about cleaning headstones without having to search for bits and pieces on the net.
---
A Few Testimonials:
"The Headstone Cleaning Guide is GREAT for personal use or you could use it to start your own tombstone cleaning business!"
"Hey Kenderick, Women can do this too!!!!"
"... this has been a perfect add on service for our family owned funeral home..."
"This book is well worth the price. Easy to read and easy to understand. The techniques are very straight forward and simple to follow. The writing is a little quirky but it's REAL."
You will know and be able to do everything the professionals do because you will be learning from ONE.
Grab YOUR Copy Here!
Get The Headstone Cleaning Guide!
If the tombstone cleaning guide doesn't live up to your highest expectations, IF it is not everything you hoped for, Your money will be refunded! That's right. NO QUESTIONS ASKED.
I GUARANTEE that the the information contained within will teach you EVERYTHING you need to know about cleaning headstones.
Get More Info On The Headstone Cleaning Guide!
(Waiting on updated version.)