Tile and Grout Cleaning
Is Now A Breeze!
Tile and grout cleaning is a breeze using this tile & grout cleaner! It's easy, effective, and safe on granite and marble tiles
as well as ALL Natural Stone. A powerful deep cleaner that will make your tile and grout spotless.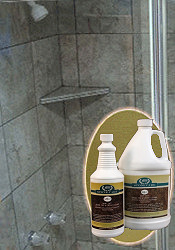 This highly concentrated grout cleaner
is designed to clean the toughest soil from tiles, grout and Natural Stone.
It's a biodegradable powerful cleaning agent formulated with the latest technology, to deeply clean your grout, tile, and other treated surface.
This is a powerful, designed specially for tile and grout cleaning. It will tackle the most demanding cleaning job in your home! Available in quarts
and gallons
.
Comes In Concentrated Form.
Just Add Water!
Buy the Tile & Grout Cleaner
For cleaning Marble and Granite tile, grout, and other Natural Stone, mix in the following proportions with HOT water. Always test in an inconspicuous area.
Light Soiling - 3 fluid ounces to 1 gallon of water.
Medium Soiling - 6 fluid ounces to 1 gallon of water.
Heavy Soiling - 8 fluid ounces to 1 gallon of water.
Remove all loose debris from the surface to be cleaned.


Apply the solution liberally with a mop or a sprayer and allow the product to sit. The longer it sits, the easier it is to clean. DO NOT let the solution dry on the surface.


Agitate the solution with a hand brush or floor machine. Remove the solution with a mop or, for best results, with a wet and dry vacuum cleaner.


Rinse thoroughly with plenty of clear water.


Once your floor is dry, buff clean using a white nylon pad. To help prevent deep soiling and staining in the future, apply a sealer.
Stronger solutions can be used for extreme soiling conditions.
This tile & grout cleaner
is the very best product line available to the end user of Stone for the occasional deep cleaning of light and heavily soiled marble, stone & granite tiles as well as grout and for the cleaning care of countertops, vanities, shower walls, floors & doors AND all other stone weighted down with soil.
Comes in concentrated form - just add water. Available in quarts
and gallons
.
Buy the Tile & Grout Cleaner