Stone, Marble & Granite Repair Kit
It's Unique! It's Convenient!
Don't replace! Repair. The stone, marble and granite repair kit
is unique and convenient! Deep cracks, chips or pits? This stone repair kit is for you! Use it on tiles, granite countertops, stone floors, vanities and more. Works GREAT on natural stones as well as concrete, tile and engineered stones.
Stone, Marble & Granite Repair Kit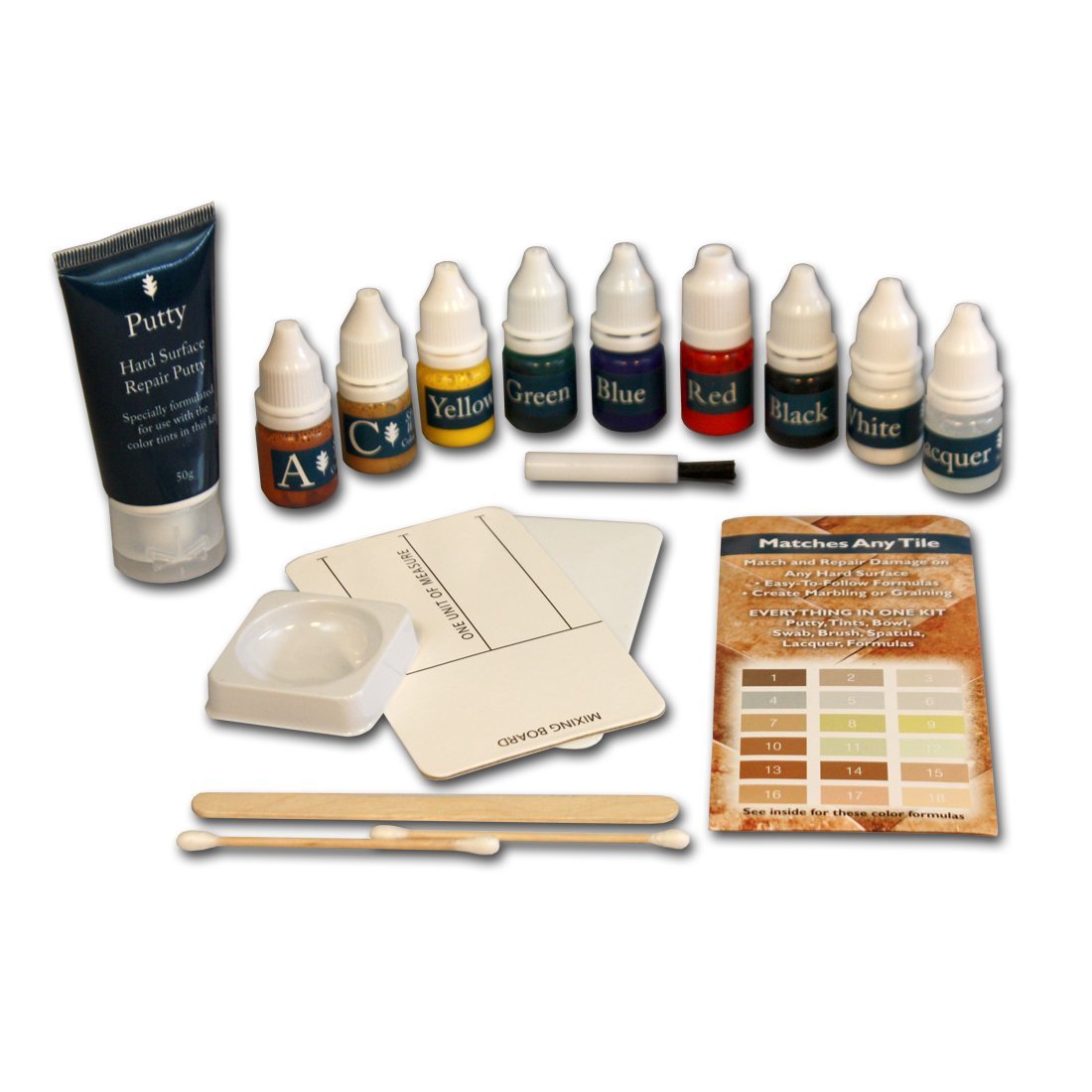 Stone, Marble & Granite Repair Kit Includes:
Assorted Liquid Tints. (Black, Blue, Green, Red, White, & Yellow)
Putty
Lacquer
Mixing Bowl
Stir Stick
Graining Stick
Lacquer Brush
Spatula
Mixing Board
Plus 18 color formulas AND Detailed Instructions!
Buy the Stone, Marble & Granite Repair Kit
Product Descriptions
Whether your repairing chips or pits on your granite counter top or scratches on your marble floors - this specialty kit works wonders!
A plethora of mediums and color choices for mixing and matching! Use one of the color formulas provided or custom make your own. Any color can be matched! Even graining can be matched!
Fast repairs and multiple repairs per kit!
Great for your concrete, tile, marble & granite repair, AND it's safe to use on Natural Stones including limestone and marble as well as engineered stones!
This kit is QUICK and EASY to use!
Add tint drops to bowl and stir.


Add tint mix to putty and stir.


Apply to damaged area.
The granite repair kit
is the very best product line available to the end user of Stone for the daily cleaning of stone tops & floors as well as specialty cleaning. Made for stone but versatile enough to use ANYWHERE in your home.
Buy the Stone, Marble & Granite Repair Kit