Stone, Marble And Granite
Polishing Preserver
Give Your Floor The Protection It Deserves!
This stone, marble and granite polishing preserver is designed to preserve the original glossy finish on your polished marble, granite, travertine, limestone, conglomerate or other natural stone floor finish.
It EVEN works to preserve polyurethane finished hardwood floors.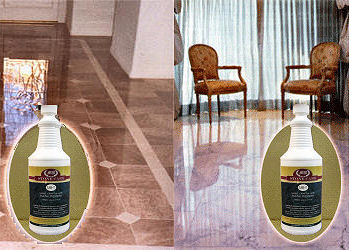 It's a unique, non slip combination that invisibly protects the finish of your floor. It ALSO reduces and delays the visual effects of wear and tear patterns from foot traffic.
Because it's NOT a wax, there's no build up and it NEVER needs to be stripped. Just reapply when and where needed.
Easy to apply! Pour a capful on your floor, spread it with a mop and clean water, and then buff to a shine with "000" steel wool pads. For larger areas, we recommend the use a floor polishing machine.
Other Household Uses:
Polished Stone
Polyurethane Coated Hardwood Floors
Residential Use
Stone, Marble and Granite Floor Tile
One Quart covers approximately 2400 square feet!
Not sure if this is the right product for you? Here is where you'll find more info on the stone floor polish. Protect the finish of your natural stone floor!