Stone, Marble & Granite Floor Polish
Increase Density! Add Shine!
Protect Your Stone Granite Floor!
Resist soils, stains and traffic wear patterns
with this easy to use buff spray crystallizer. The stone and granite floor polish will protect the finish of your natural stone floor while increasing depth & shine! It's simple to use - just spray & buff to give your floors the gift of a hard crystal polish!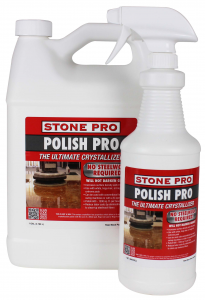 With a unique blend of fine synthetic resins, this stone and marble floor polish protects your polished stone floor with an invisible, non slippery buffer.
This helps delay the visual effects of wear and tear patterns on your floor, especially where there's high traffic areas... entryways, foyers, etc.
The unique formula is NOT A WAX. Because it's NOT a wax, there's no build up and it NEVER needs to be stripped. It works very effectively on polished marble and granite floor tile as well as concrete & terrazzo!
The floor polish can be used with any 175-3000 RPM machine; hand-polisher, floor polisher or high-speed buffer.
Use a 17" 175 RPM Swing Machine
with 17" hogs hair pads
or even a high speed burnisher
. If you are polishing with this particular high speed burnisher, use the 20" hog's hair high speed burnishing floor pad.
Always double check the pad size for your particular machine.
Polishing floors to a high reflectivity is quick to complete. Polish 1000 square feet per hour! It will not darken your grout and a steel wool finish is not needed.
Maintain your floor by mopping regularly with a floor cleaner made for stone.
Protect your floor by applying a stone and granite polish for floors.
Available in quarts
or gallons
.
Buy the Stone Floor Polish
Concrete
Marble and Granite Floor Tiles
Polished Natural Stoness
Polished Terrazzo
Be sure that the floor is absolutely clean. If you have recently rinsed or washed your floor, let it dry for about 45 minutes.


Spray 1 to 2 ounces (about 6 to 10 squirts) onto a 3x5 foot section and immediately go over it with a hogs hair pad 3 to 4 passes.
(More severe areas may require additional polishing applications.)


Spray another 1 to 2 ounces onto the same area and continue to buff another 3 to 4 passes


For Best results continue to spray in small increments - 1 to 2 ounces at a time and build up to a polish.
Once streaks are completely removed, move onto the next section and repeat the previous steps.
Results: A highly polished marble, granite, terrazzo or polished concrete surface with increased density which is more resistant to soil, staining and traffic wear.
DO NOT use more product than the portion indicated. No damage would occur, but a longer polishing time would be necessary.
The concrete, stone and granite floor polish
is the very best product line available to the end user of Stone for protecting the glossy finish of your stone floor and it's easy to maintain.
Keep the finish of your natural stone floor shiny and new looking!
Available in quarts
or gallons
.
Buy the Stone Floor Polish