My Granite Care
Shipping & Handling Policy
At
www.MyGraniteCare.com,
we offer shipping in the United States via Fed Ex Ground or UPS. We offer international shipping via USPS Priority.
Please note, we cannot ship to PO Boxes if shipping with FedEx.
It's important to us that your product(s) arrive whole and undamaged. We use sturdy corrugated cardboard boxes and your product is packed in extra thick bubble wrap. We take utmost care in shipping and packing your order.
Make sure you get your stuff! Incorrectly entered addresses may unnecessarily delay your shipment. Please enter address information in the appropriate boxes and double check for typos and other errors. Special Instructions? Just fill in the comment box at checkout!
All in stock items are processed and shipped within 2 business days. If an ordered product is out of stock, you will be notified via email and the item will be shipped upon arrival.
Orders placed on weekends are processed and shipped on Monday.
When Will I Receive My Order?
Once your order has shipped & weather permitting:
USPS Priority US Destinations: 3 - 4 Days
USPS Priority International Destinations: 6 - 10 Days
The map below gives you an approximate time line for FEDEX.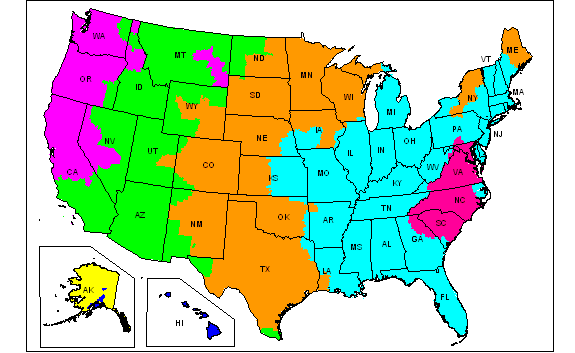 USPS 2013 Holiday Schedule:
Tuesday, January 1 - New Year's Day
Monday, January 21 - Martin Luther King Jr's Birthday
Monday, February 18 - President's Day
Monday, May 27 - Memorial Day
Thursday, July 4 - Independence Day
Monday, September 2 - Labor Day
Monday, October 14 - Columbus Day
Monday, November 11 - Veterans Day Observed
Thursday, November 28 - Thanksgiving Day
Wednesday, December 25 - Christmas Day
FedEx 2013 Holiday Schedule:
Monday, May 27 - Memorial Day
Thursday, July 4 - Independence Day
Monday, September 2 - Labor Day
Thursday, November 28 - Thanksgiving Day
Wednesday, December 25 - Christmas Day
FedEx delivers to residences Tuesday through Saturday.
FedEx delivers to business' Monday through Friday. Bad weather, power outages and other unforeseen circumstances can affect delivery time.
Every effort is made to ensure that items are in stock. Occasionally an item is sold out before orders from suppliers are received. If this occurs, you will be notified of the delay.
Shipping time on back ordered items varies. The back ordered item will ship out to you automatically as soon as possible. You can remove the back ordered item from your order. Just Contact Us or call (888) 509-5831 / (772) 361-2840 and a refund will be issued that is consistent with the original method of payment.
Please Note: Payments for back ordered items are made up front as part of the original order. This helps to keep shipping costs down, as it would be more expensive to charge you for two separate shipments.
E-Checks (Personal & Business)
All checks must clear prior to shipping your order. This may take up to 10 days, but the average is 5-7 days. This prevents the added costs of collecting on bad checks, keeping overall prices lower.
Sorry. We don't ship COD.
You will receive one or more tracking numbers on the confirmation email sent when your order is shipped. This tracking number can be used to check the status of your package at our shippers online store:
Federal Express Package tracking: http://www.fedex.com/us/tracking
U.S. customer service: (800) GoFedEx or (800) 463-3339
USPS Track & Confirm: http://www.usps.com/shipping/trackandconfirm.htm
We do not sell, trade or auction any of your personal information. This includes email addresses, phone numbers, and all other personal information. Any email that you receive from us will only be about the specific order that you placed. For more information on our Privacy Policy.
YOUR SATISFACTION IS GUARANTEED! If you're not satisfied for any reason with the performance of any of these products, send us back the unused portion in its original bottle within thirty (30) calendar days after delivery of the product. At our sole discretion after 30 calendar days, we will offer an exchange or store credit. If you have received a volume discount on your purchase and no longer qualify for this volume discount, the volume discount will be added back into your total purchase price and you will refunded for the product not including the volume discount.
If we have made a mistake, your return shipping will be graciously paid. Otherwise return shipping is your responsibility.
If you intend to return ANY item, please contact customer service at (888) 509-5831 / (772) 361-2840 within 30 days upon receiving it. Thank you.
You may cancel your order at any time prior to processing by calling (888) 509-5831 or Contact Us by email. Unfortunately, we are not able to cancel orders once they have been shipped.